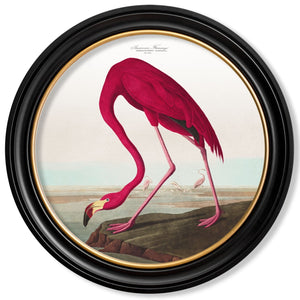 Framed Flamingo Print
£8995

£89.95
Tax included.
---
---
This flamingo references a beautiful hand coloured print by James Audubon from the early 1800s. Prints of this style were originally printed in black and white and then hand painted over the top to give them bright vibrant colours.  

These antique pieces are remastered to restore damage and bring back the original colours, then printed with archival grade methods to ensure the highest quality and prevent ageing.
The prints are then added to artful round black and gold frames custom-made in the UK from sustainable wood. Each and every component is hand cut, printed and assembled in Britain to create pictures of distinction with minimal carbon footprint.